Vëlosfabriken / Vëlosgeschäfter zu Lëtzebuerg




Fabriques de vélos / Magasins de vélos au Luxembourg




Fahrradfabriken - Fahrradgeschäfte in Luxemburg
| | | | | |
| --- | --- | --- | --- | --- |
| | Accinauto | Luxembourg | | |
| | AKOR - Arnold Kontz Räder | Luxembourg | | |
| | Attert-Fahrradwerke | Useldingen | | |
| | Becker Eugène | Luxembourg / Pétange | | |
| | Borschette Gust. | Lintgen | | |
| | | Diekirch | | |
| | Elsen Jacob | Roodt/Syre | | |
| | Entenich Arthur | Schifflange | | 1948 |
| | Even Marcel | Schifflange | | 1958 |
| | Filbig Nicolas | Noerdange | | |
| | Frantz Nicolas | Mamer | | |
| | Gilles Nic | Schuttrange | | |
| | Heinricht & von der Weiden, maison de vélocipèdes | Luxembourg, 18 Grand'rue | | 1893 |
| | Hoffmann Nic - Nicolette | Luxembourg-gare | | |
| | Hoffstetter Bernard | Echternach | | |
| | JEMULUX - Jempy Muller | Esch/Alzette | | |
| | Kirchen Jeng | Hollerich | | |
| | Klein J.-P., Velocipede-Fabrik | Luxembourg | | |
| | Knood Joseph | Luxembourg | | |
| | Lemmer Victor | Esch/Alzette | | 1917 |
| | Maquet François | Luxembourg | | |
| | Maquet Jean | Echternach | | |
| | Nuss & Pleiming | Luxembourg | | |
| | Pohl - Schmitz | Luxembourg | | |
| | Rasqui Jos | Esch/Alzette | | |
| | Schanen Fr., maison de vélocipèdes | Luxembourg, 8 rue de la Porte-Neuve | | 1893 |
| | Schlesser Nic. | Rumelange | | |
| | Steffen Nicolas - STEWA | Luxembourg | | |
| | Strock Pierre | Luxemburg | | 1894 |
| | Thorn J. | Luxembourg | | |
| | Vanière Alfred | Luxembourg | | |
| | Wagener | Bissen | | |
| | Whizzer | Cessange / Luxembourg | | |
| | | Luxemburg, 7 avenue Arsenal | | 1910 |
| | | Walferdange | | |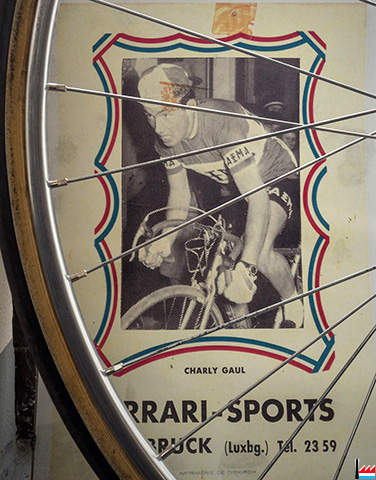 Ferrari-Sports, Ettelbruck, tél: 2359 - Charly Gaul (Photo: André Ferrari)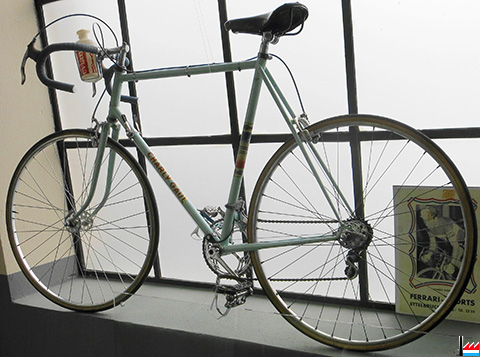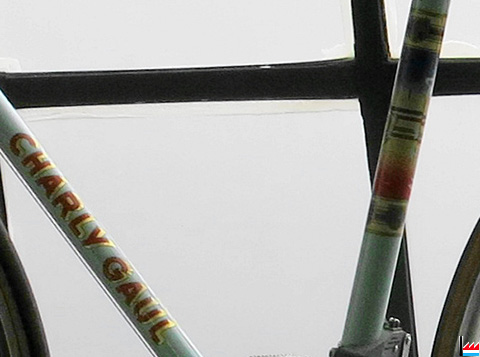 Vélo de course Charly Gaul (Photo: André Ferrari)

Vélos spéciaux Guerra-Faema, Charly Gaul, Lux-Sport (Photo: André Ferrari)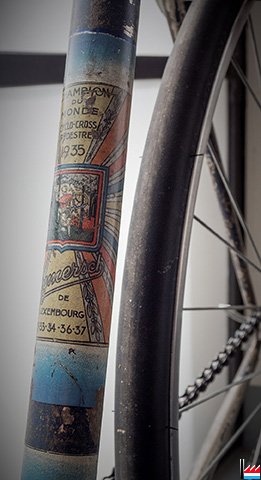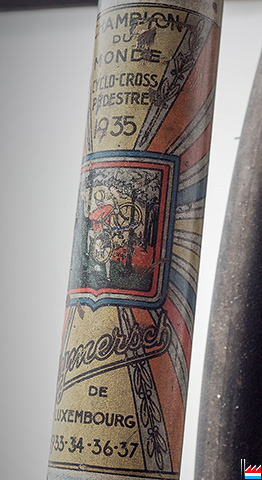 Champion du monde Cyclo-cross Pédestre 1935 (Photos: André Ferrari)
Josy Mersch, de Luxembourg
1933-34-36-37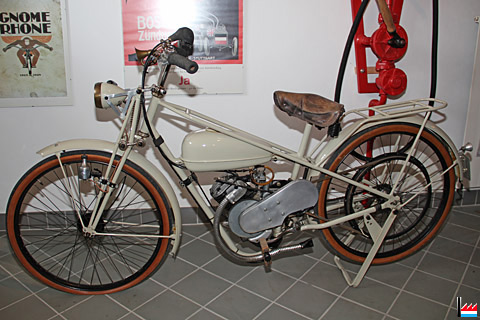 Velomoteur avec moteur Briggs & Stratton de quelle marque? (Photo: jmo)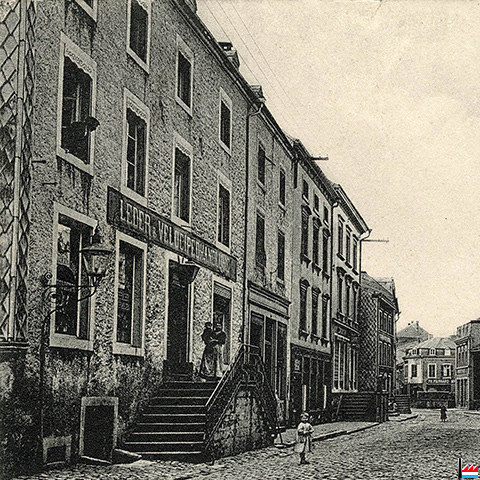 Lederhandlung & Velocipedhandlung Aertz Ed., Esch/Alzette, Handelsstrasse - rue du Commerce - vers 1906 (Carte postale: Verlag: Kremer-Müller, Esch; Collection: industrie.lu)
<=1907: Lederhandlungen in Esch: Aertz Ed., Bonem F., Kayser-Maguin J.
<=1907: Fahrradhandlungen in Esch: Aertz Ed., Carmes-Glesener Fr.


Velocipeden aller Art (Hillman, Herber & Cooper, Doos, Conventry & London - Gebrüder F. & J. Wagener - Echternach - 1889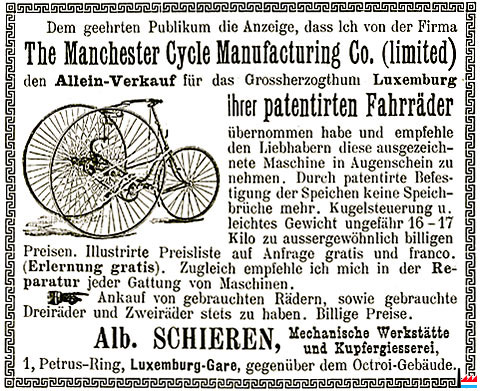 Albert Schieren, Mechanische Werkstätte und Kupfergiesserei
1 Petrus-Ring, Luxemburg - Gare
The Manchester Cycle Manufacturing Co. (Limited) - 1893
This is not the official page of this company. Any information or picture completing these pages is welcome! For more information just send us an e-mail. Ceci n'est pas la page officielle de cette firme. Toute information ou photo pouvant compléter ces pages est la bienvenue! Pour des informations supplémentaires, veuillez nous envoyer simplement un e-mail. Dies ist nicht die offizielle Seite dieser Firma. Jede Information oder jedes Foto, welche(s) diese Seiten vervollständigen, ist herzlich willkommen! Für mehr Informationen, senden Sie uns einfach eine E-mail.
| | | |
| --- | --- | --- |
| | | Created by / Créé par / Copyright: jmo |